Many travelers who visit us from all over the world and even Peruvians themselves have little time to visit Machu Picchu. This is how they constantly wonder if it is possible to visit it in a single day, taking advantage of all the important points of the citadel and above all, taking with them the best of experiences.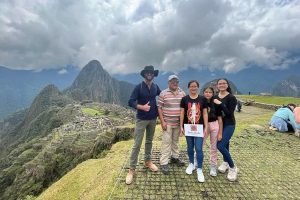 Although it is true, there are many options to visit our wonder that it is difficult to decide on one of them, however, there is one in particular that is the favorite of thousands of travelers who, like you, seek to take advantage of their visit if you have limited time.
Is it possible to do a tour to Machu Picchu in a single day?
Of course! Leaving early in the morning and returning by train in the afternoon, a single day will be enough to visit the citadel of the Incas. This option, without a doubt, fits a tight itinerary for travelers who do not have many free days but who do not want to miss out on our ancestral city.
First of all, let's go little by little. First things first, as well as for all the attractions in the world, for Machu Picchu it is necessary to reserve the tickets in advance, I am not lying to you, the tickets are so requested that if you do not anticipate, you may not enjoy this wonder.
It seems a bit complicated, right?, but it is easier than it seems. Through the digital platform of the Ministry of Culture or just by typing in the search engine: Tickets to Machu Picchu, you can find the ticket portal, depending on your nationality, ticket prices vary. Once inside, you select your visit date, the time you want to enter and that's it, a piece of cake.
I already have my tickets to Machu Picchu, now what?
We know that by now you must be wondering how to get to Machu Picchu. Redundant or not, it is good to point out that Machu Picchu is the citadel where the sacred ruins are located, but before getting there, we must first step on: Aguas Calientes.
How can I book my train tickets?
Well, just like the income, we recommend doing it through the Peru Rail or Inca rail page, in a few simple steps you can buy the tickets according to the chosen schedules and the type of train you want, either from the most luxurious to the more adventurous, the options are on the table.
So, making a summary, the perfect itinerary is:
We woke up early and embarked at 5 am on a trip towards Ollantaytambo through the sacred valley to arrive at the train station where our carriage awaits us.
At approximately 7:05 am we board our train that will take us for 1 hour and a half to Aguas Calientes, a place that houses the Inca citadel.
Do not despair, our itinerary is about to end. After taking your train, you already arrived at Aguas Calientes, one more step and you visit the wonder.
What are we missing? Yes, the bus that will take us to see Machu Picchu
After getting off the train, we went to the consettur bus queue and paid the amount of 12 usd.
Once up, we will be able to enjoy the Inca world wonder for approximately 2 and a half hours in the company of a good tour guide.
Ready! With these 4 steps you will have reached your destination in record time. To return, we will use the same method and approximately you will have returned to Cusco at 7 at night.
General recommendation
Be careful, don't let the days go by and book everything in advance, remember traveling friends that the high season begins in April and ends in October. What does this mean? that during this season the tickets tend to sell out and many travelers are disappointed because they cannot realize their dreams. Don't let it happen to you!
Now that you know that you can enjoy the wonder of the world, what are you waiting for to visit it?