This June 24, 2022, we'll live again one of the biggest and most imposing festival in Cusco: "Inti Raymi". A cultural celebration that is full of color.
In this experience, you'll have the opportunity to see this celebration in Qorikancha and Sacsayhuaman accompanied by a local Quechua-speaking guide who will interpret all the dialogues of the Inti Raymi 2022 for you.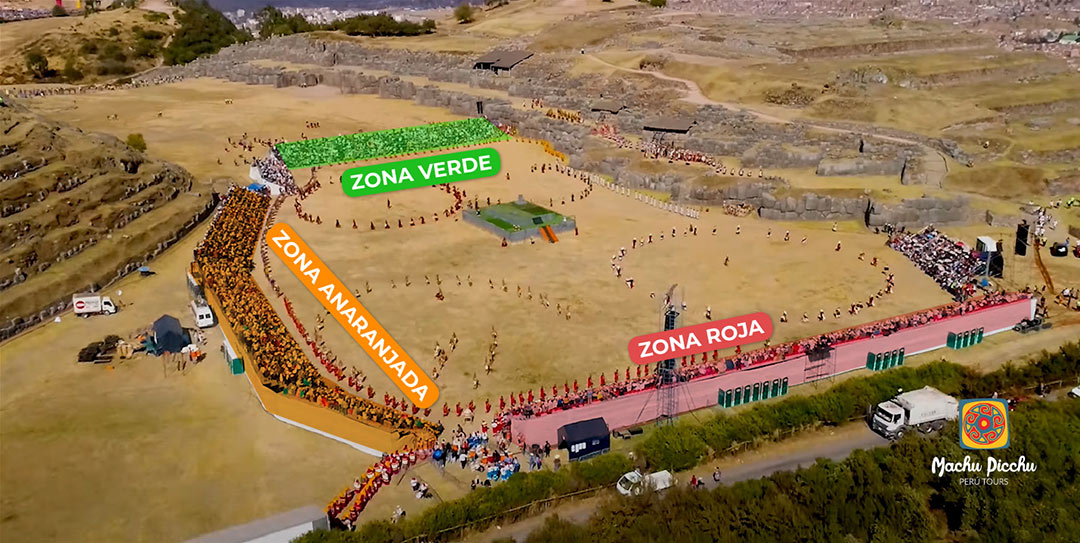 Inti Raymi
08:00 hrs: Starts the actual ceremony of Inti Raymi (feast to the sun god), in the Qoricancha (Temple of the Sun), we can see the general of the army (sinchi), followed by his guards, the imperial army, and then the Aqllas, Tika takunas (women who throw flowers) and Pichaqcunas (those who clean the place).
We will listen to traditional music (pututus, quenas, and tamborcillos).
The last to appear and also accompanied by music is the Inca and his Coya (wife).
Here the Inca offer to Taita Inti the chicha de Jora (traditional beverage)
After this first stage, we'll go to the main square: the Plaza de Armas, where we will find armed, a huaca, again the Sinchi and his guards are the first to enter, then comes the army, the Aqllas and the arrival of the coya followed by the nobility and finally the Inca.
From the highest part of the Huaca, the Inca throws the coca leaves and asks his priest to guess the will of Tayta Inti (the sun father). After this, we'll go to the esplanade of Sacsayhuaman.
The sequence is the same first the Sinchi and at the end, we will see the Inca, the Inca toasts (with a kero in his hands full of chicha de jora) with the sun and then throws a glass of chicha in the direction of the Koricancha (Temple of the sun).
The WILLKA NINAKAMAYOC (the one who keeps the fire lit) lights the fire and maintains it, as the hour of the sacrifice arrives, the TARPUTAY (priest in charge of the oracle) asks to raise a tender and black flame, he goes to the sun with a tumi (knife) in his hands and opens the left side of the animal and takes out its heart to offer it to the sun. And they throw the visceras to the fire. At the sight of the smoke, the WILLAC UMU rejoices for the good omens.
The feast ends in contagious joy for the people. In the course of the whole Inca rite, we will see hundreds of dancers in colorful costumes and traditional music that completely embellishes the magnificent scenery.
To reserve this excursion a minimum of 30 days in advance is required.
A minimum of 02 participants is required.
Warm clothing, including jacket, fleece, gloves, scarf, and hat. Thermal clothing is also recommended.
Camera and/or video camera.
Hat or cap to protect from the sun, rain, and cold.
Sunscreen.
Toilet paper.
Snacks: cookies, energy bars, chocolates, fruit, granola, etc.
Your own medical kit with any special medications you may need, SOROCHI PHILS, blister protection, etc.
Cash in soles (PEN)